Λουξεμβούργο/Luxembourg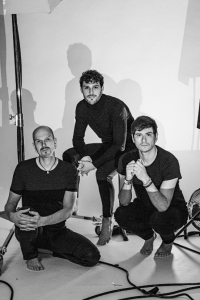 Dock In Absolute is a stellar Trio from Luxembourg comprised of three young musicians who breathed new life into the music scene. With a shared love for music, they combine different styles of progressive Jazz, classical and rock, playing the pianist's own compositions. Its music is sparkling, varying, forceful, pressing, rich in twists and turns in mood: from lyrical to unrestrainable, from wild to graceful, from virtuosic and crystalline to assertive and dramatic, from subdued to airy and demonstrative. An endless variety of melodic cells, often with a hypnotic pattern, alternating against a flamboyant, bright sonic background with unfaltering dynamics, never a half-way approach from this trio. Dock In Absolute proves that Jazz has myriads of stories to tell: thus, it should be allowed free rein.
Dock In Absolute brought his first album out in 2017, under the Label CAM JAZZ and the second one in 2019, the third one is planned for 2023.
DIA has been named the "Export Artist of the Year 2017 and 2019" by music: LX in result of being the most active band in Luxembourg and discovery artist of the year by Jazznews. Their latest album belongs to the "100 Greatest Albums of the year" by the Jazzit Magazine Awards.
Jean-Philippe Koch – Piano
Arne Wiegand – Bass
Victor Kraus – Drums