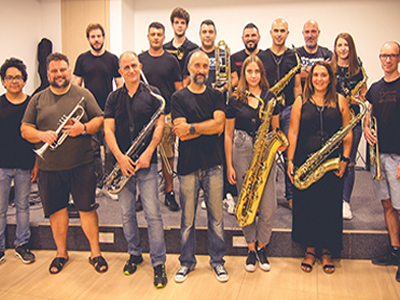 Κύπρος/Cyprus
The 'Mendonis Big Band' is a large jazz ensemble consisting of 15 musicians. The project was founded by Petros Mendonis who is also responsible for the arrangements and the conducting of the musical compositions. The idea behind the project is to have original compositions and to promote authenticity with new sounds.
The music that will be presented at the Aglanjazz festival is a combination of various rhythms used in jazz as well as rich harmonic content with storytelling melodies.
The 'Mendonis Big Band' consists of various saxophones, brass instruments as well as a firm rhythm section (drums, piano, double bass and guitar), accompanied by unique orchestrations, producing musical experiences, the likes of which are not regularly heard in Cyprus.
Glioris Grigoriou, Dan Heys, George El Haber – trumpets
Kleanthis Demetriou, Charalambos Charalambous – trombones
Alexandros Panayiotou, Chris Papadopoulos, Vasilia Michael, Niovi Tsangara, Simos Tsiakouris – saxophones
Kris Grecian – drums
Nicholas Tryfonos – bass
Pavlos Daniel Loukaides – piano
Andreas Epaminonda – guitar
Panayiotis Stylianou – percussions, guest
Petros Mendonis – conductor, composer, arranger